Looking for a humanist modern version Haggadah with a feminist twist? Feel free to use this one I compiled in 2001.
It has illustrations on each page to spice it up a bit.
It contains no references to a higher power, it includes an orange on the Seder plate, it is inclusive in language to both Jews and non-Jews and it refers to contemporary plagues such as hunger, war and racism.
It's available here in .doc format: Humanist Modern Version Haggadah for Passover
or pdf: Humanist Modern Version Haggadah for Passover Enjoy!-->
On this page, you can find links to audio files of some of the featured songs. Thanks to Inna Barmash for this helpful resource.
The sources for most of the text are A Humanist Haggadah for Passover of The Washington Congregation for Secular Humanistic Judaism and Passover Haggadah for a Secular-Humanist Seder of the City Congregation for Humanistic Judaism, New York City.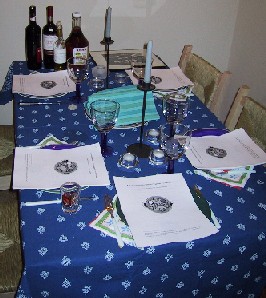 Fun ways to make the evening more memorable
Chocolate Seder Plate

Assemble a Seder plate from chocolate ingredients for dessert. Use the following:
- chocolate orange
- drum stick ice cream
- chocolate milk
- bitter chocolate
- chocolate egg
- marshmallow cream puff mixed with nuts and M&M's


Photo: Passover 2001, Plainsboro, New Jersey
Memory Lane

Ask everyone to bring an object that has special meaning to them. Go around the table and share the stories. I did this one year and it worked out really well!

Some additional resources for beginners
These links will take you off my site

What is Passover?
Judaism 101: Pesach
---
Back to Eszter Hargittai's Homepage